Meets Chris Hadfield - 2013-Dec-18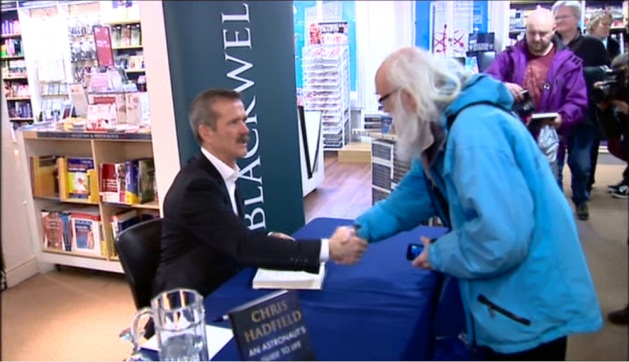 Extract from BBC's Reporting Scotland - broadcast 2013-Dec-18
This is a DivX video which may play directly on your PC - it's 25 MB in size. You can click on the link below. I am at about 1:07 in, and I was very lucky to get there!
David-meets-Chris-Hadfield-2013-12-18.divx
If the video doesn't play, right-click the link or the image sand save it to your desktop or wherever. The free DivX player or the VLC Media Player should handle it.
Original BBC News Scotland item - http://www.bbc.co.uk/news/uk-scotland-25429378
---
On Working Lunch - 2009-Dec-18
Click the link below to play the video - it's 30 MB so will take some time to download, so you may prefer to save it locally for repeated playing. Live broadcast from the BBC studios in London and Edinburgh.
David-Working-Lunch-2009-12-18.divx

---
Downloading and playing the videos
Right-click the links above to download the video to your computer for playing at will. To save the video locally, either:
On MS Internet Explorer: the command is right-click, Save Target as, and the file seems to be saved as .AVI rather than .DivX, but still plays OK if DivX is installed.
On Firefox: the command is Save Link As, and it saves as .DivX as expected.
If you don't already have the free DivX player, you can get it here:
http://www.divx.com/divx/windows/download/
Cheers,
David