Nikon D5000

2009-Nov-02 18:18 UTC - "Sharpen more"


2009-Nov-02 18:18 UTC - "Sharpen More" and brightness gain 255/190


2009-Nov-02 18:18 UTC
Nikon D5000 with 70-300mm f/4.5-f/5.6 VR lens
ISO 200, 1/200s at f/16, manual exposure and focus
auto white-balance. Seeing was slightly hazy.


2009-Oct-11 05:25 UTC
Nikon D5000 with 70-300mm f/4.5-f/5.6 VR lens
ISO 200, 1/320s at f/5.6, spot metering, -4 stops exposure compensation
auto white-balance, auto-focus, auto-exposure (grab-shot)

2009-Oct-11 05:25 UTC - "sharpen more" and brightness gain 255/230
Nikon D60

2008-12-15 06:27:01
Nikon D60 with 70-300mm f/4.5-f/5.6 VR lens
ISO 1600, 1/800s at f/8, sunlight white-balance

Very hazy seeing, I'm afraid. The moon was at its closest for many years.

2008-12-17 07:09:15
Nikon D60 with 70-300mm f/4.5-f/5.6 VR lens
ISO 400, 1/100s at f/11, auto white-balance

Somewhat better seeing today.
Nikon D40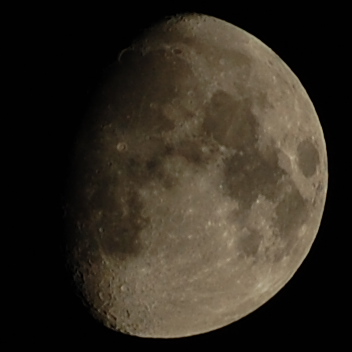 2008-09-10 20:11:54
Nikon D40 with 70-300mm f/4.5-f/5.6 VR lens
ISO 200, 1/200s at f/5.6
Panasonic FZ20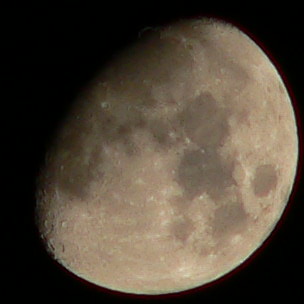 2004-10-23-2335-01

Panasonic FZ5
2005-04-23-2223-53
(ISO 80)

2006-04-05-1936-12
Very hazy conditions
WB = daylight
(ISO 100)


2006-04-06
Excellent seeing
(ISO 100)

Lunar Eclipse: 2007-03-03-2240 UTC, excellent seeing.
Note the two stars in the picture, one near lower left and the other near the moon at about 4 o'clock. The focussing was not as good as some of the images above.
(ISO 100)

The hazy image of 2006 April 05 doesn't do the camera justice!
All images unretouched (except where stated), cropped with JPEGCROP. Both the FZ5 and FZ20 are 5MP cameras, from around April 2005 and November 2004 respectively. The Nikon D40 is a 6MP DSLR from December 2006, the D60 a 10MP DSLR from March 2008, and the D5000 a 12MP DSLR from June 2009.
Images from Others....
From Roger Clark, Canon 20D - includes some interesting further processing of the image.
From Roger Clark, Canon 5D Mark II - with a selection of focal lengths.
From "mianileng", March 2006, Panasonic FZ20 - also shows the orange tint. "The tint problem was made worse in my case because of a type of atmospheric pollution peculiar to my region in this season. Villagers still use the traditional method of growing the main crop - rice - by cutting down everything in designated tracts of forest-jungle and then burning them when they've dried out. The smoke stays up for weeks or months until it's cleared by heavy rains, and causes a shift in the spectrum of sunlight towards red-orange. I'll see if I can get a better result by using WB for incandescent light. Levels of other types of pollution are still quite low here."
From Mike - Canon Digital Rebel (300D) - using Sigma 70-300mm zoom. Mike subsequently wrote: I would like to inform you that since this time I made much better pictures with the (better) 50-500mm Sigma. The thumbnails are available here (70-300mm) and here (50 - 500mm - including last eclipse from Canada East coast), or, the first Moon image is here. These are unresized crops.
From Kent Clarke - using an FZ30. "The RAW and attached jpg are available, as well as a tiff that has had some noise removal, levels and sharpening. This was hand-held, with poor seeing."
From "mianileng", May 2006 - Panasonic FZ20, 432mm equivalent, ISO 100, f4.6, 1/125 sec (manual), Auto WB, Auto focus (spot), Sharpness, contrast, brightness, saturation at "Standard" (medium), High-quality JPEG, cropped with Irfanview and saved as 100% JPG. No post processing.

Although not directly related to the experiments, Michael Myers' site has some interesting pictures and information.
Some lunar eclipse photos with the Olympus SP-560 UZ by "helpman77".