WXtrack in full ISS mode
From: Michel Casabonne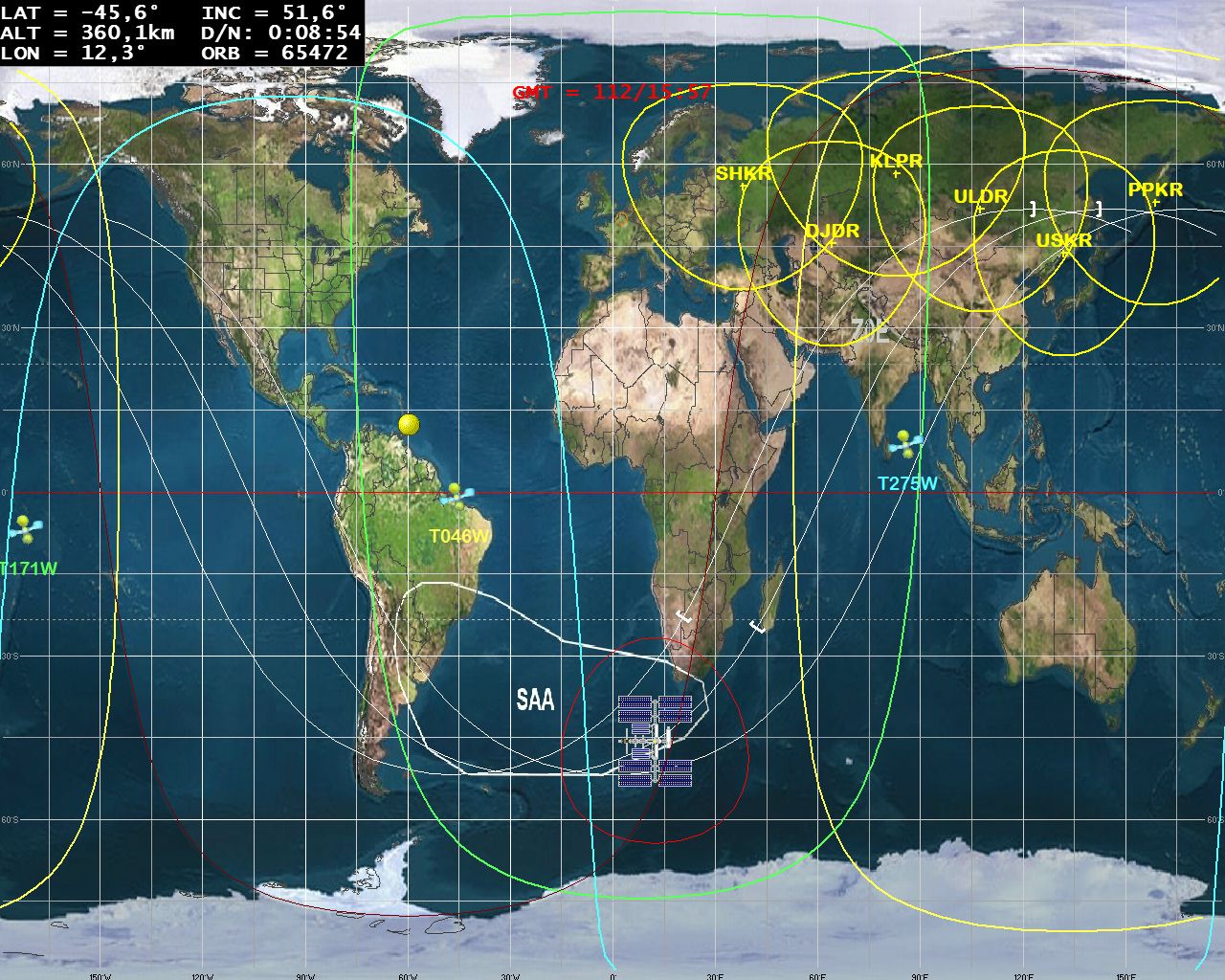 From: George Papadopoulos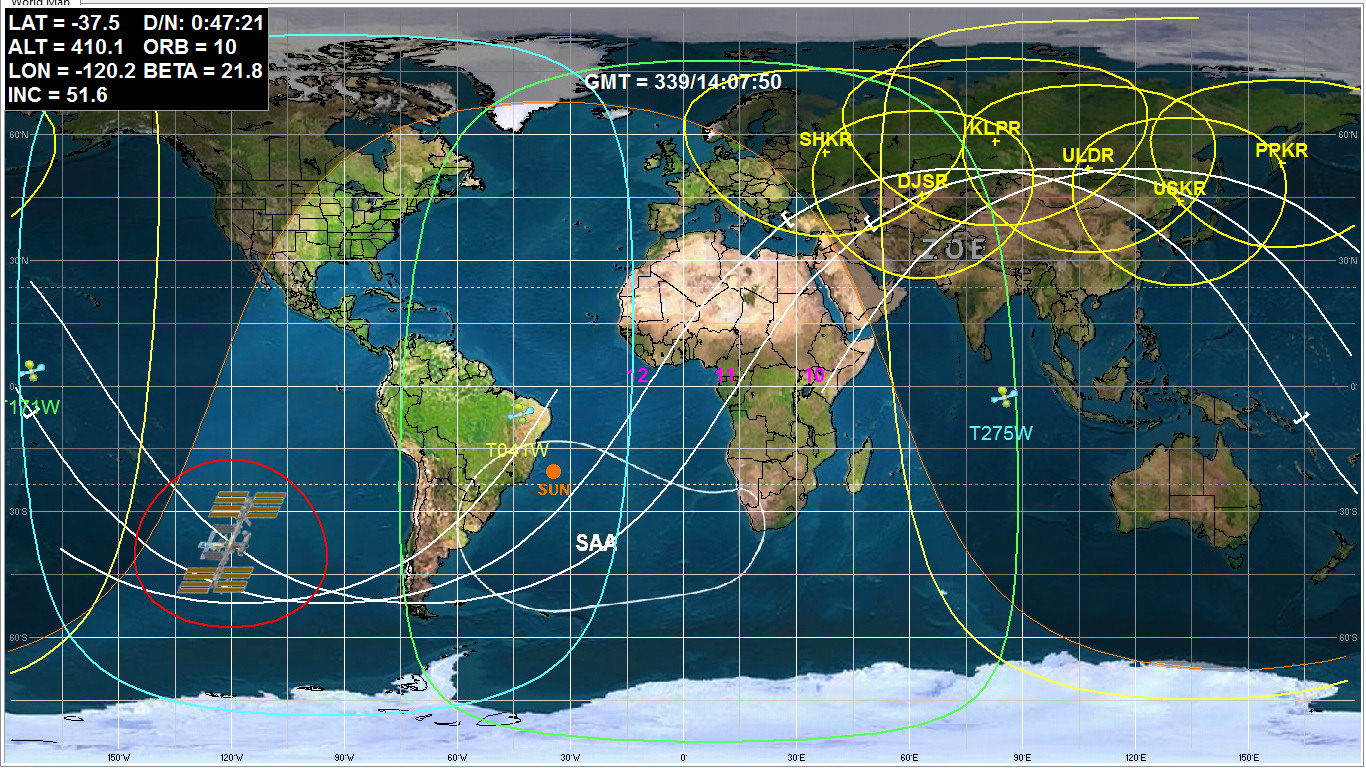 In recent versions WXtrack there are a number of enhancements which allow you to produce a display very similar to that in the NASA ISS Mission Control Room. Many of these were suggested by Michel Casabonne, to whom I am very grateful. Some of these options are only available in the registered version of WXtrack, and require release V3.8.6.934 or later. Above you can see Michel Casabonne's and George Papadopoulos' examples of using full ISS mode.
One-column or two-column "blackboard" display.

GMT display (shown in red above).

Mission elapsed time display.

Custom icons from Michel Casbonne for the ISS and the TDRS communications satellites.

Custom labels, label colours and footprint colours for the TDRS satellites - you can rename TDRS-7 to T275W independent of the name in the Kepler data. The labels will be shown horizontally and not diagonally as is normal for geostationary satellites.

Hide the names of ISS-related objects and just show the icon.

Correct display of footprints for geostationary satellites as seen from the ISS. (As the ISS is well above the ground, the "footprint" of a geostationary satellite will be greater than normal, and will extend to the far side of the earth as seen from the geostationary satellite.)

South Atlantic Anomaly (SAA) shown on Michel's custom background map.

Intermediate latitude and longitude lines on background map.

Ground track displayed 1.5 orbits back and 1.5 orbits forward.

Entry to and exit from eclipse periods marked on ground track. These are D/N (day/night) values on the blackboard display.

Near full-screen view with F11 key or right-click pop-up menu. On my system I still see a tiny remnant of the "World Map" tab sheet label, and I hope it does not spoil your enjoyment of near-full screen view.

Country boundaries can be displayed in Plate-Carrée mode.

Extra Tools, ISS Weather, menu for display of real-time weather at US landing locations in your Web browser...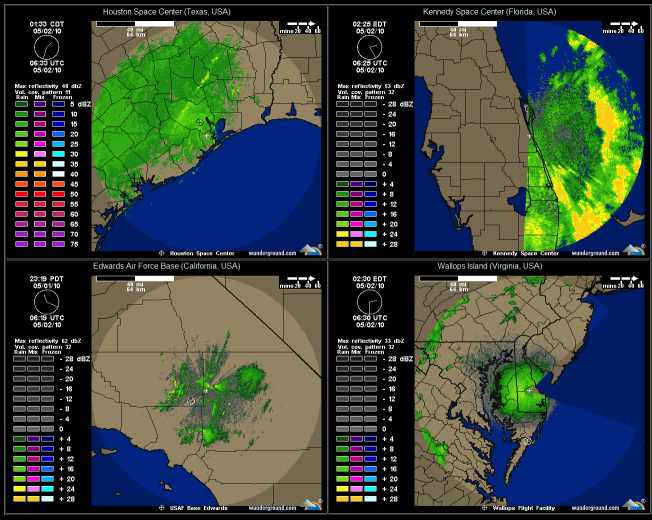 (Click for full-size sample)

Michel kindly also contributed a French translation of the software description.
ISS Options
Here are some of the options you can set for the ISS - they are not the options used for the screen-shot above.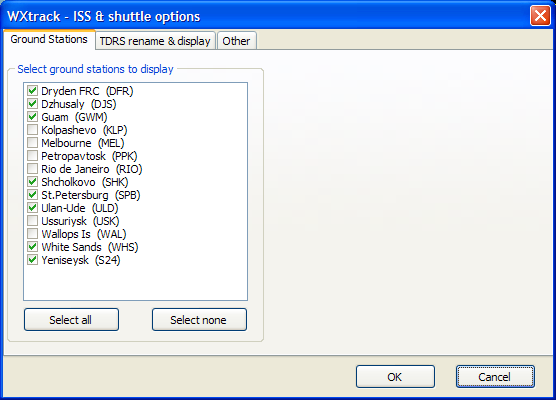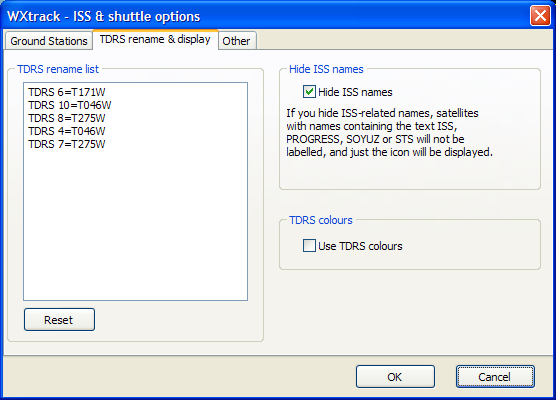 Please note that to have the TDRS plotted, you will need to select them as Active satellites for the bank you are using. I don't know how to determine which TDRS satellites are used at any particular time.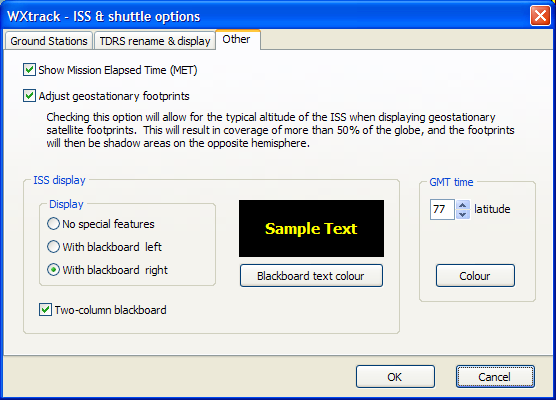 ---
WXtrack in full ISS mode
... em Português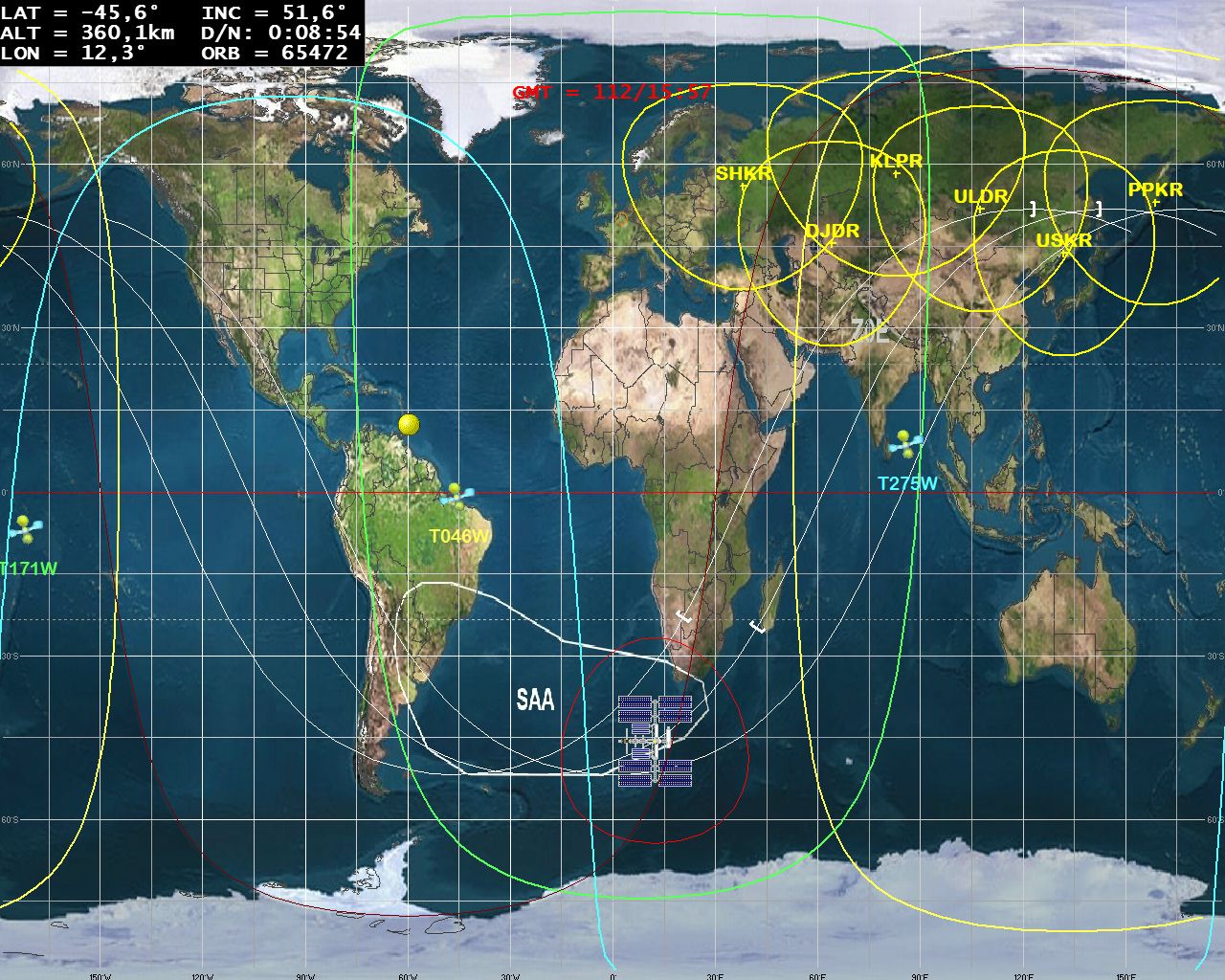 Nas recentes versões do WXtrack, há uma série de melhorias que permitem produzir uma exibição muito semelhante aquela verificada na Sala de Controlo da Missão da ISS da NASA. Muitas delas foram sugeridas por Michel Casabonne, a quem estou muito grato. Algumas destas opções só estão disponíveis na versão registrada do WXtrack e exigem V3.8.6.934, com autorização.
Uma ou de duas colunas de exibição de parâmetros " negro " .

Indicação da Hora GMT (mostrado em vermelho acima).

Visualização da hora da Missão a decorrer

Ícones personalizados de "Michel Casbonne" para a ISS e os satélites de comunicações TDRS.

Identificação personalizada e a cores para os satélites TDRS visíveis - Pode mudar de TDRS -7 para T275W independente do nome nos dados do Kepler. As identificações serão exibidas na horizontal e não na diagonal como é normal para satélites geoestacionários.

Ocultar os nomes de objectos relacionados com a ISS e apenas mostrar o ícone.

Vista correcta para satélites geoestacionários, tal como vista desde a ISS. (Como a ISS se encontra muito acima do solo, o "footprint" de um satélite geoestacionário é maior do que o normal, e se estenderá até o outro lado da terra como visto do satélite geoestacionário.)

South Atlantic Anomaly (SAA) – (Anomalia do Atlântico Sul - AAS), Linha branca mostrada em fundo no mapa de " Michel Casbonne".

Latitude Intermédia e linhas de longitude em fundo no mapa.

Visualização das orbitas em relação à terra, exibindo 1,5 órbitas a percorrer e 1,5 órbitas percorridas.

Entrada e saída das zonas de sombra, períodos marcados no mapa. Trata-se de D / N (dia / noite).

Visualização em ecrã completo com a tecla F11 ou no menu pop-up do botão direito. No meu sistema eu ainda vejo um pequeno resquício no " Mapa do Mundo " da guia da folha. Espero que isso não estrague o seu prazer de quase completa visualização do ecrã.

Os limites dos países podem ser exibidos em modo Plate- Carrée .

Ferramentas extras: ISS Tempo, menu para exibição de meteorologia em tempo real em locais de desembarque dos EUA no seu browser ...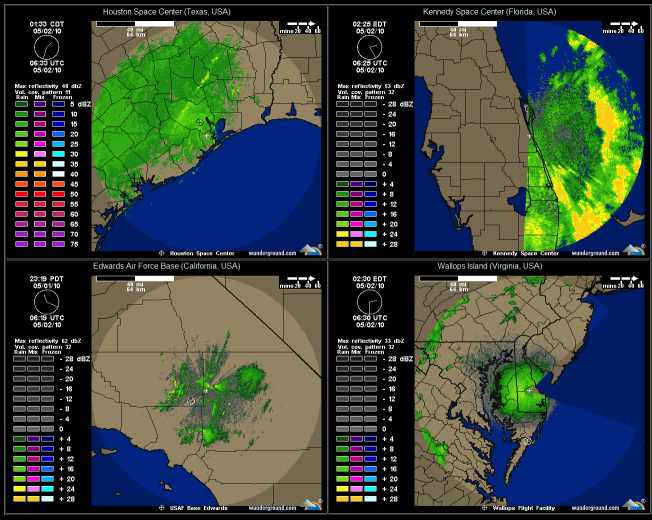 (Click for full-size sample)

Michel kindly also contributed a French translation of the software description.
Voltar para as informações do WXtrack

ISS Options
Aqui estão algumas das opções que podem ser configuradas para a ISS - não são as opções utilizadas para a captura do ecrã acima.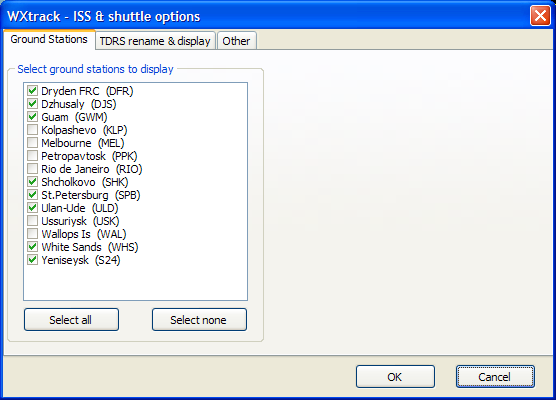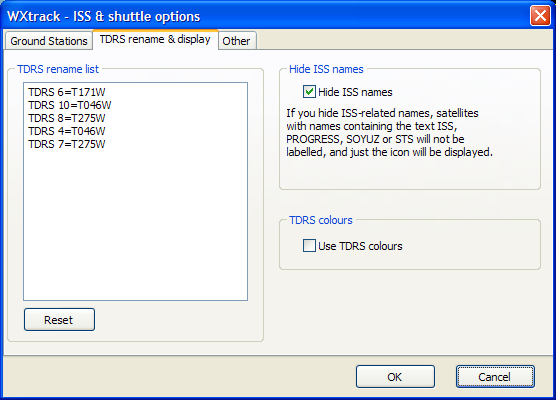 Por favor, note que para planear ter os TDRS, precisará de os seleccionar como satélites activos, para o banco que você está usar. Caso contrário, não saberá determinar quais os satélites TDRS que estão a ser usados em qualquer momento específico.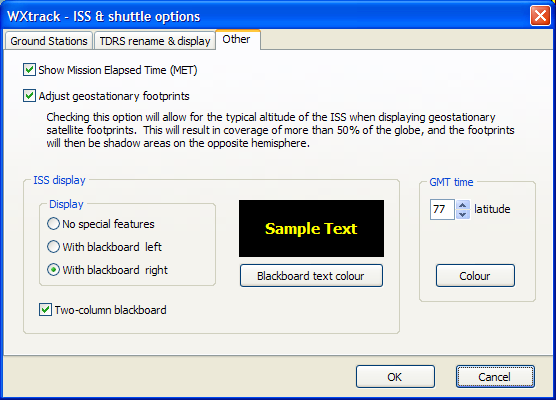 Voltar para as informações do WXtrack
Translation by: Eduardo Mata, thanks!