After a career which has taken me from astronomy through engineering to geology, I have finally retired!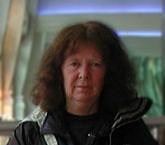 Not that you will have immediately noticed the difference, for I have remained busy editing publications, leading field trips and completing research during the last few years. Apart from an occasional foray into the local geology here in Scotland, that research was largely focussed on the south of Sweden, where Edinburgh University has links with the University of Lund. We even had a Swedish fossil trilobite featured on the Edinburgh Palaeontology course books – as well as on the T-shirts which remained popular with generations of students. But when it came to the engraving on my retirement present, there was a change to be made, for two colleagues, Professors Euan Clarkson and Per Ahlberg, had done me the honour of naming a newly discovered species of trilobite for me. Its outline on my gift had to be considerably enlarged, for, at around a millimetre in length, Ctenopyge ceciliae is among the smallest trilobites known!

It is not only geological fieldwork which has taken me to Scandinavia, but also holidays. I've travelled most extensively in Sweden, from Skåne to Lapland and from the Baltic to the Norwegian border. Particular delights are Inlandsbanan (the inland railway) and the elegant old Göta canal steamers, but in more recent years I have been spending as much if not more time in Norway, mostly along the west coast. An interest in ships generally, and Scandinavian shipping in particular, reaches passionate proportions with Hurtigruten, the Norwegian coastal route's unique combination of freight, local ferry and passenger ships.

In fact, many of what most folk consider my more geeky interests and enthusiasms – for which I should now have more time – have a Scandinavian dimension. It has been some years since (along with the more obvious palaeontology) I taught evening classes on Swedish music, covering Bellman's songs and Gustavian opera through to Rosenberg and Pettersson. However, my unusually specialised collection of CD's continues to grow. My knowledge of Swedish and Norwegian, on the other hand, is undoubtedly shrinking – languages are definitely not my strong point!

Outside the Scandinavian ambit, I have a hobby interest in the literature of James Joyce – keen enough to go along to the occasional academic conference. While I enjoy walking and the outdoors, I have never engaged in other active sports. Formula 1 Grand Prix motor racing is the only spectator sport I have an interest in – and it is a considerable interest – and perhaps a bizarre one for someone who has not even got around to learning to drive! Also surprisingly it never occurs to me to include photography as such among my hobbies, although it plays a significant part in so many others – travel, ships, architecture, and landscape in general – as well as professionally in more technical aspects. Amateur radio gave way to work demands on my time in earlier days, and now to broader interests in meteorology and remote sensing, though I remain proud of my respectably ancient call-sign.